Swordbreaker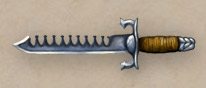 The swordbreaker dagger has a one-foot blade with strong rigid teeth cut into the back edge. It is typically used as a secondary weapon, and is designed to break or immobilise the opponent's blade in combat. It is not balanced for throwing.
| | |
| --- | --- |
| Skill type: | Daggers (also benefits from the Swordbreaker Mastery talent). |
| Usage: | One handed, and cannot be thrown. |
| Good styles: | Viper, Crane, Hydra, Mongoose and Flea. |
| Weaknesses: | This weapon can be caught by swordbreakers and tiger claws. |
Tiger claws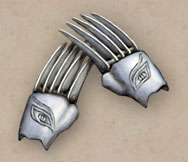 This weapon consists of five blades fitted to a metal bar, with a curved plate protecting the back of the hand and a knuckle-guard covering the fingers. Despite its name, the tiger claw works well with all of the cat-like fighting styles. It is most effective when used as a pair.
| | |
| --- | --- |
| Skill type: | Daggers (also benefits from the Martial Arts Mastery talent). |
| Usage: | One handed, and cannot be thrown. |
| Good styles: | Tiger, Lion and Leopard. |
| Weaknesses: | This weapon can be caught by swordbreakers and tiger claws. |