Hand axe

The hand axe is a small single-headed axe, well balanced for both melee and throwing.
| | |
| --- | --- |
| Skill type: | Axes (also benefits from the Small Axe Mastery talent). |
| Usage: | One handed, but may also be thrown. |
| Good styles: | Scorpion, Dragon, Mantis, Crab and Hawk. |
Throwing axe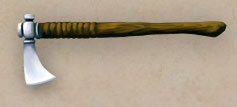 The throwing axe is a light weapon, well-balanced for throwing, but also lethal in melee combat. It is often carried thrust through the belt, serving as a backup weapon.
| | |
| --- | --- |
| Skill type: | Axes (also benefits from the Small Axe Mastery talent). |
| Usage: | One handed, but may also be thrown. |
| Good styles: | Dragon, Mantis, Hawk, Crab and Scorpion. |