Knife


Small and light, the knife makes an excellent tool but a rather poor weapon. It is well balanced for throwing, however.
| | |
| --- | --- |
| Skill type: | Daggers (also benefits from the Dagger Mastery talent). |
| Usage: | One handed, but may also be thrown. |
| Good styles: | Viper, Mongoose, Hydra, Flea and Crane. |
| Weaknesses: | This weapon can be caught by swordbreakers and tiger claws. |
Butterfly knives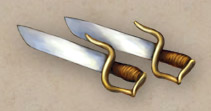 The butterfly knife has a wide one-foot blade, and a hooked guard for catching sword blows. It is light and fast, and designed to be used in a pair.
| | |
| --- | --- |
| Skill type: | Daggers (also benefits from the Martial Arts Mastery talent). |
| Usage: | One handed, and cannot be thrown. |
| Good styles: | Viper, Mongoose, Hydra, Flea and Crane. |
| Weaknesses: | This weapon can be caught by swordbreakers and tiger claws. |