War hammer

The war hammer consists of a spiked iron hammer head mounted on a two-foot shaft of hardened wood.
| | |
| --- | --- |
| Skill type: | Clubs (also benefits from the Hammer Mastery talent). |
| Usage: | One handed, and cannot be thrown. |
| Good styles: | Ape, Bull, Bear, Crane and Swallow. |
| Special: | Some attacks reduce opponent's armour by 10%. |
Maul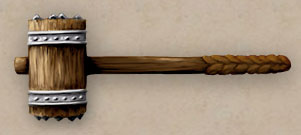 The maul is a huge, heavy wooden hammer, reinforced with metal bands to prevent splintering, and fitted with spikes on the striking surface of the head in order to maximise the damage caused on impact. It's sheer size means that it requires two hands to be used effectively.
| | |
| --- | --- |
| Skill type: | Clubs (also benefits from the Hammer Mastery talent). |
| Usage: | One or two handed, but cannot be thrown. |
| Good styles: | Ape, Bull, Bear, Crane and Swallow. |